Cultural Engagement Officer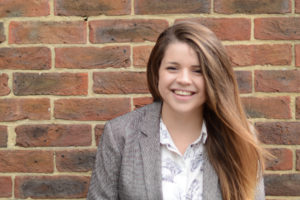 Amy Stone is the project's Cultural Engagement Officer. Having recently finished her French and History degree at Royal Holloway, Amy is excited to continue her involvement with Egham Museum, which she started as a volunteer as part of the Magna Carta in Egham Project in 2015.
She has volunteered in a number of other museums such as the Charles Dickens Museum in London as well as Brighton Toy and Model Museum, and so knows the valuable experiences volunteers can have within a museum and the work they can do for the organisations which they are a part of. After spending last summer working as a Team Leader for the National Citizen Service Summer Programme, she is looking forward to bringing the community spirit fostered by this scheme into the town and creating a sense of pride in the area and a community with Egham Museum at its centre.
Research Intern
Lauren Faro joined Egham Museum in August 2017 as the Research Intern for the Suffrage in Egham project. She is currently completing a PhD in Comparative Literature at Royal Holloway, University of London, and has research interests spanning the 20th century avant-garde, experimental literature, women's writing and history, Feminist theory, and gender studies.
Lauren is looking forward to uncovering Egham's Suffrage past and bringing to light the voices of those local women (and men) who fought for every woman's right to vote.
Project Volunteers
Natalie Lane has a degree in History and American Studies and, after graduating, worked in academic Journals publishing. Natalie then became a freelance copyeditor after her first daughter was born. Natalie lives in Chertsey and looks forward to dusting off her research skills by helping to uncover information about the local Suffrage movement. She is already enjoying trying to find out about those individuals during the period who may have been important to Suffrage in Egham.
Fiona Corr works as a Library Assistant at Royal Holloway Libraries, where exposure to a rich collection of literature, rare books, and archival materials has sparked her enthusiasm for research. She holds a degree in French and Spanish from University College London and has had a lifelong interest in politics, political history, and human rights. Women's rights are particularly close to her heart, and volunteering for the Suffrage in Egham project is the perfect opportunity to combine and develop her varied interests. Having lived in Egham since 1995, Fiona is a proud local resident with a keen interest in local history. She is excited about this opportunity to contribute to the community, putting her skills to use to broaden knowledge of Egham's rich political past
Elena Rossi is researching for the 'Women at War' section of the exhibition. She is currently a final-year History student at Royal Holloway. For her degree, Elena specialises in Medieval History, particularly medieval universities, but she has stepped out of her comfort zone for the project. Elena became fascinated by the suffrage movement after she began writing blogs for The Citizens Project. She is also interested in the History of Royal Holloway and Egham, which has led to her writing a monthly column for the student newspaper, The Founder, entitled 'Holloway's Histories'. She is always looking for an excuse to visit an archive or museum, so Elena is extremely excited to be involved with the project and researching an area of History she has never explored before.
Chiara Artale has always been very passionate about every form of culture, in particular history, heritage and arts, but also social topics such as human rights and education. After a degree in International Relations, she has developed project coordination experience in the charity sector, which she is now transferring to the Egham museum to help with social and cultural projects.
In fact, her interest for history and social topics encouraged her to become a volunteer for us last March 2017, when she joined the "Our Changing High Street" project. Since then she has remained as a volunteer, with the aim to make the Egham community aware of their history and heritage, and is now involved in the "Suffrage in Egham" project. 
Beth Sicheri is currently studying for a History degree at Royal Holloway University. She has done voluntary work in her local museum in Braintree, Essex, and has most recently enjoyed taking part in the 'Egham's Changing Highstreets' exhibition at Egham Museum. Beth is fascinated by gender studies in the Georgian and Victorian eras – this is one of the many reasons that prompted her to get involved with the Suffrage in Egham project, where she will be researching the oppression of women before the suffrage movement began. From this project she hopes to learn about women's suffrage on a local scale and how it contributed to the wider changes in society, as well as taking experience from museum work in order to go into a career in the heritage sector.